These strategies can give all of these tasks a greater focus.
Raise your hand if you like living in a cool, tidy, and makeover space. Now raise your hand if you hate to clean up. Most of us fall into both categories! Especially if you are at home more than usual because of the pandemic, you might crave the peaceful atmosphere of order in your surroundings. Still, clutter and mess continues to add up because you're still home!
You already know you have to make beds every morning, wipe down kitchen countertops, leave a clean sink every night, and tidy up throughout the day. The problem is not what to do; Clean Mama or FlyLady will tell you. This is how to make cleaning less tedious and maybe even enjoy the time spent with a washcloth in hand. Try these 5 ways to make your cleaning time much more bearable – and even an occasion of grace.
1
Offer your cleaning work for a prayer intention
Anything can be offered to God as a prayer, and doing something you don't like is a sacrifice that can be offered for the good of others. It almost sounds too good to be true that your cleaning job not only improves the appearance of your home, but can also benefit someone in need of prayer!
Before you begin the cleanse, choose a prayer intention and offer the work you are doing. You can also offer it long after the fact: God is out of time, after all! Offering a chore you despise to a friend in need makes your job a lot more meaningful and will help you stay focused and intentional on the task at hand.
2
Treat yourself to some nice cleaning supplies
Good tools make any chore more bearable. If you have to clean the kitchen, you can at least spray surfaces with a pleasant smell, right? (Just be careful to avoid chemicals – there are natural products that many swear by.) Whether it's a heavy-duty mop, vacuum, or just a durable set of cleaning rags. , good quality, durable cleaning tools make a big difference.

Read more:
The new cleaning method: the sun!


3
Listen to music, a podcast, an audiobook, or a prayer
Blast up your favorite tunes or grab a set of headphones if you have roommates or kids walking around. Whether it's a captivating audiobook, a fascinating podcast, or just your old classics, listening to something you love is virtually guaranteed to make cleaning up painless. You might even find yourself searching for more things to clean up, just so you can keep listening!
If you want to pray while cleaning but your hands are busy, there are a number of prayer apps you can download, including one for praying the Rosary. Praying while working with the hands is an act of true contemplation in the midst of the world. In his famous Rule, Saint Benedict wrote: "They are really monks when they live by the work of their hands like our fathers and apostles. You might feel meditative and a little monastic when you fold laundry while praying the Rosary. It is a wonderful way to draw closer to God through daily tasks.
4
Set a timer
If you're running out of time, use this trick to motivate yourself and make the most of the time you have. Set a timer for 20, 10, or even 5 minutes, then clean as much as you can before the timer goes off. No matter how many times you do this, you will be truly amazed at how well you can clean in such a short time. It's also an incredibly effective strategy for motivating kids to clean!
5
Designate a time for cleaning
Maybe life is too busy for you to spend much time cleaning, and it all starts to add up. Here's what you need to do: Don't worry about the clutter building up, but be sure to write down a list of every chore you see that needs to be done. Then set aside a specific period of time each week for a deep clean and have the whole family help.
Friday would be a good day to make up for lost time in the household, because it is traditionally a day of penance. You can also choose Saturday, to prepare for Sunday's rest day. By setting aside this exact time for cleaning, you don't have to worry about those more important tasks the rest of the time, but you know they'll be finished. It's almost like you've hired yourself as your own housekeeper!
To sweeten the deal, add a reward at the end, like a family movie night after your kids get involved and do their part. Maybe you get a nice cocktail or a bubble bath at the end of the day. You have certainly earned it!
Cleanup is sort of a necessary evil, but hopefully these strategies will make the job more bearable. If all else fails, as our Catholic teachers told us, give it away!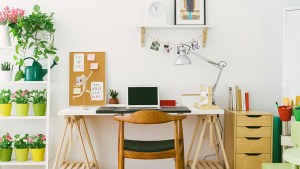 Read more:
The secret to a really clean house? It's in the Bible …